Teens love Riverdale, the sexy show that answers the question, "What if Archie Comics were live action, and sexy?"
Among the sexy actors of the sexy cast is Cole Sprouse, who plays Sexy Jughead, whose character is dating Sexy Betty, played by Lili Reinhart. Rumor has it that the "Bughead" magic extends off-screen, too, and with on-screen magic written into his contract.
Visiting Live with Kelly and Regis Michael Ryan, Sprouse showed a clip from an upcoming episode and teased what the season has in store.
"A little bit more of that [kissing], which is gonna be good," he said, gushing. "They're contractually obliged to give me as many kiss scenes as possible this season. I wrote it into my contract."
A TV show is the ultimate wing-man.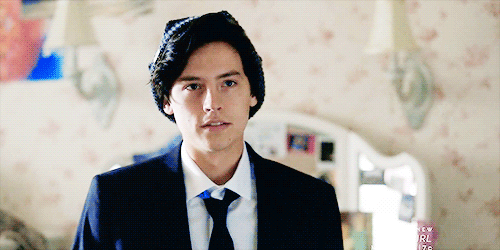 This further fuels the fire below internet sleuths looking for clues that Sprouse and Reinhart are, in fact, dating.
Just look at his Instagram to experience his loving gaze!
Her Instagram presence is just as adorable, too.
Watch the whole interview here. The kissing and telling begins around 3:30 (and there's some Friends talk at 1:43!).