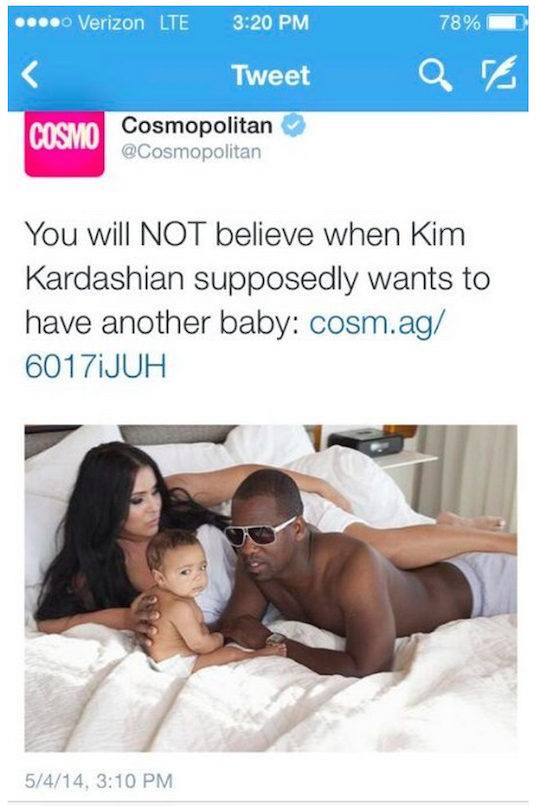 Close counts in horseshoes, hand grenades and Cosmo. (via)
Yesterday, Comsopolitan tweeted out link to a story about Kim and Kanye having another baby that "You will NOT believe!" Mostly because the photo that they sent along with the story wasn't one of Kim and Kanye, but rather, a black guy in sunglasses with a lighter skinned woman and a baby. It was a nice photo, and they did get the colors right. The photo is so close that it would've been fine for a story about a deranged couple who started a family for the sole purpose of impersonating Kim and Kanye. Just not for a story about the actual couple.
Most people following Cosmo on Twitter for the latest "sex tips that will curl his toes" probably didn't even notice. Some did though, and in the helpful, supportive spirit of Twitter, gave Cosmo a friendly heads-up.
Cosmo is trolling and I am tired. They stuck Big Ang and R Jelly in a photo to pass off as Kim and Kanye.

— LeToya Fuckett (@CorporateBarbie) May 4, 2014
Can we all just laugh at the fact that @Cosmopolitan tweeted this thinking it was Kim and Kanye? 😩😂😭 pic.twitter.com/GwFbKizFoI

— Ashley Alese Edwards (@AshleyAlese) May 4, 2014
Someone at Cosmo got the message (probably while researching an article about reaching orgasm with an electric toothbrush) and deleted the Tweet, replacing it with an actual photo of Kim and Kanye.
You will NOT believe when Kim Kardashian supposedly wants to have another baby: http://t.co/KISC56orUO pic.twitter.com/nPUnekPLRJ

— Cosmopolitan (@Cosmopolitan) May 4, 2014
Success! The story is probably still 100 percent horseshit, but at least they got the right people. 
(by Jonathan Corbett)