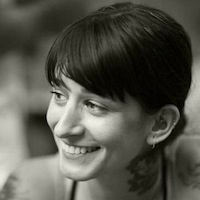 Filed by Jessie Dean Altman

|

Nov 18, 2016 @ 2:06pm
Looks like Debra Messing and non-vagina-voter Susan Sarandon are still going at it on Twitter. The two actors got into a fight on Twitter before the election: Messing was pro-Hillary Clinton, while Sarandon was pro-Bernie Sanders. When Sanders failed to get the Democratic nomination, Sarandon very publicly supported Green Party candidate Jill Stein (despite the fact Sanders himself encouraged Democrats to vote for Hillary Clinton).
The main issue between Messing and Sarandon was an interview in March in which Sarandon implied that, if it came down to it, she might vote for Donald Trump over Hillary Clinton. She also posted a statement to Jill Stein's website, reading in part,
It's clear a third party is necessary and viable at this time. And this is the first step in accomplishing this end.

Fear of Donald Trump is not enough for me to support Clinton, with her record of corruption.

Now that Trump is self-destructing, I feel even those in swing states have the opportunity to vote their conscience.
Then the election happened, and on November 10, senior Newsweek writer Kurt Eichenwald tweeted his disdain for Sarandon's political choices.
On November 16, Sarandon tweeted that everyone should love each other.
No, never excuse hatred, but how do you move forward in a climate of hate when you only expect the worst of an entire group of people? https://t.co/fdu1PuPwlP

— Susan Sarandon (@SusanSarandon) November 16, 2016
And Messing couldn't resist responding, referencing Eichenwald's tweet, and adding her own take.
JESUS CHRIST. NOW she wants to give racist, islamophobic, homophobic, sexist,mysogynists a chance!"Pure" 4 Bernie. FUCK everyone else. https://t.co/i4oenS2lgb

— Debra Messing (@DebraMessing) November 15, 2016
She encouraged ppl to vote for Trump over HRC on a news interview. Said she was more "dangerous." She needs to be held accountable. https://t.co/8XYWP5DzXl

— Debra Messing (@DebraMessing) November 16, 2016
If you're looking to see where it all started, it was in March, after the interview, when Messing tweeted,
Susan Sarandon muses tht Trump prezcy wud b better 4 the country thn Hillary.Wonder if she'd say that if she were poor,gay,Muslim or immgrnt

— Debra Messing (@DebraMessing) March 30, 2016
Sarandon replied,
Then, in a reply to actor/comedian Kathy Najimy, Sarandon wrote,
.@kathynajimy I don't "hint." It's important to understand that principled people, especially environmentalists (1/2)

— Susan Sarandon (@SusanSarandon) March 31, 2016
Hopefully all this arguing will lead to Trump not being president. What do you mean, "that's not how it works"?