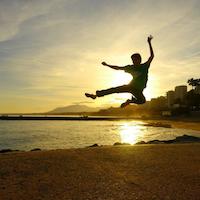 Filed by Mitchell Friedman

|

Feb 01, 2016 @ 10:04am
Over the weekend, someone apparently tried to get even with Donald Trump by scrawling a black swastika on his Hollywood Walk of Fame star. The fact that they drew it backwards, likely on accident, means the graffitist might actually be an intellectual match for Trump himself.
To date, Trump has asked for a ban on all Muslims traveling to the U.S. and called Latino immigrants "criminals" and "rapists." His rhetoric has resulted in comparisons to Hitler before, including one by Anne Frank's stepsister, Eva Schloss, just last week. Hollywood historians might note several other industry legends that deserve their own swastika-updated star, including John Wayne, who once told Playboy, "I believe in white supremacy until the blacks are educated to a point of responsibility." Or Walt Disney, oft-rumored to hold racist views.