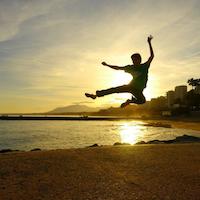 Filed by Mitchell Friedman

|

Dec 07, 2016 @ 8:14am
On Wednesday morning's Today show, TIME magazine revealed their choice for Person of the Year: and by now you already know it's Donald Trump.
Trump will join a list that includes Adolf Hitler, Joseph Stalin, and Ayatollah Khomeini, but also Gandhi, Martin Luther King, Jr., and some guy named Andrew Grove.
It's a long list. And presidents often make it.
Trump told Matt Lauer on Today, "To be on the cover of TIME as Person of the Year is a tremendous honor."
And while his interview on Today hasn't hit the internet yet, watch the video below to see some candid shots of a seemingly unaware-he's-being-filmed Trump posing for photographs like a supermodel.
The magazine also made clear that the selection does not by any means signal an endorsement. "The person of the year, as we always remind people, is the person who has had the greatest influence on events, for better or worse," said managing editor Nancy Gibbs.
In that case, it was a fairly obvious choice. Hillary Clinton is TIME's runner-up, and "The Hackers" took third place.
"The fascinating thing this year is," continued Gibbs, "I've never seen so much agreement over who had the most influence or the most disagreement over whether it was for better or worse."
For his part, Trump acknowledged the possibly negative aspect to the honor by referencing the cover, which reads "Donald Trump: President of the Divided States of America."
"I think putting 'divided' is snarky," said Trump, who would hate Someecards. "I didn't do anything to divide."
UPDATE: Here's the video of Donald Trump's call with Today.