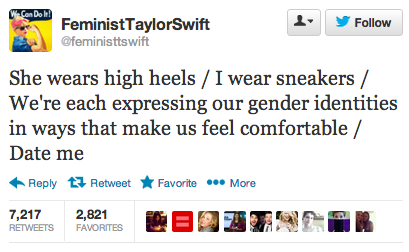 Instead of writing new hits, her post-breakup takedowns are long-form essays in 'Salon.'
The great parody Twitter accounts are not just wacky reimaginings of a celebrity, or the physical representation of something mentioned in politics (we miss you, Obama Chair); they complete the celebrity by adding something they were always missing. Taylor Swift's issues with feminism are well-publicized (quick refresher: she's not one), but she mostly just tries to avoid the whole idea entirely. That's no longer an option now that Clara Beyer, a rising senior at Brown University, created Feminist Taylor Swift to reconcile her Swift fandom with her philosophical convictions. The result transforms Swift's songs into hilarious social commentary of a strong, smart woman instead of the unintentionally hilarious commentary of a girl who knows she's prettier than you.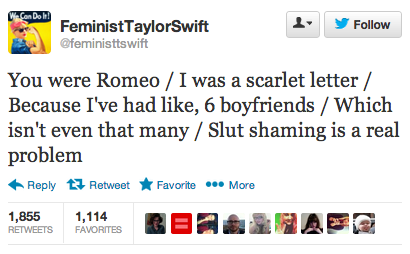 We support changing this, and not just so that only having 3 girlfriends isn't embarrassing.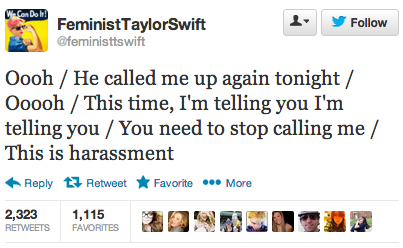 John Mayer? More like John Maynotcomewithinfivehundredyardsofher.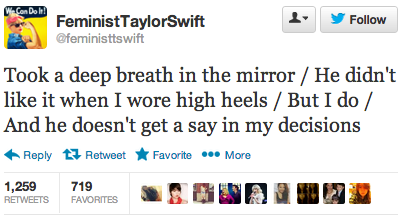 From Taylor Swift's hit song, "Begin Again: Putting Your Relationships On Your Terms."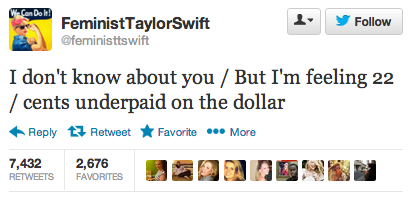 Unlike age, at least that number will hopefully go down as you get older, FTS.
 

The most needed lyric of all of them is also the catchiest.