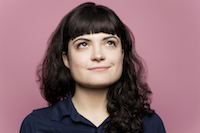 Filed by Jaime Lutz

|

Apr 18, 2016 @ 11:00am
Actors Johnny Depp and Amber Heard recorded an hostage video apology tape to Australia for smuggling their two dogs, Pistol and Boo, into the country without declaring them in April 2015.
The punishment was light, but the married couple is not totally getting off scot-free; they still have to endure the ribbing of the Internet for that hilariously stiff video. Here are the funniest reactions from Twitter, which will hopefully shame all celebrities into never, ever becoming animal smugglers.
1.
New kink: Humiliate me like Johnny Depp

— Legend of Chelda (@legendofchelda) April 18, 2016
2.
I will not rest until Johnny Depp and Amber Heard are placed on the No Fly List of every nation on Earth.

— Caity Weaver (@caityweaver) April 18, 2016
3.
I bet Johnny Depp would have seemed a lot more comfortable in that apology video if Tim Burton were shooting it.

— april lavalle (@imatoofbrush) April 18, 2016
4.
5.
Depp: ...*sighs*...furthermore, your Deputy Prime Minister is a handsome man and I would turn gay for him.
Barnaby: more

— Peter Taggart (@petertaggart) April 18, 2016
6.
When I thought about a headline like Johnny Depp Apologizes to Nation, I always assumed it would be about us, or at most France

— Richard Lawson (@rilaws) April 18, 2016
7.
I think my favourite bit is right at the start when Depp goes to read Heard's line but then realises he is a second tier character

— Helen Davidson (@heldavidson) April 18, 2016
8.
extremely into depp's performance as 'contemptuous man #3'

— j.r. hennessy (@jrhennessy) April 18, 2016
9.
I cannot believe that in 2016, in a packed courthouse, we are going to make Johnny Depp eat those dogs of his. Tragic and pathetic.

— Ben Jenkins (@bencjenkins) April 17, 2016
10.
I'll tell you what Amber should have Heard: the regulations on importing dogs into Australia! Welcome new Aussie followers. DMs are open.

— Matt Christman (@cushbomb) April 18, 2016
11.
Which Amber Heard performance do you prefer?

— southpaw (@nycsouthpaw) April 18, 2016
12.
Amber Heard: Brocklesnitch is a wonderful island
Me holding a gun to Boo's head: LOUDER AMBER

— Bec Shaw (@Brocklesnitch) April 18, 2016
13.
Depp is very underrated as an actor. That performance of 'man loathing every second of being forced to do this' was utterly convincing.

— Paris On Line (@DavidParis) April 18, 2016
14.