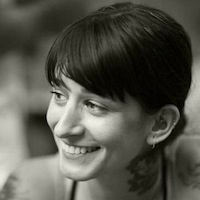 Filed by Jessie Dean Altman

|

Jan 27, 2016 @ 1:30pm
Just months after adopting a shelter dog for themselves, amazing humans/perfect couple George and Amal Clooney surprised Clooney's parents Nick and Nina with the best Christmas present ever—a sweet little terrier mix named Nate.
Nate had been rescued from a hoarding situation about a year earlier by an organization called Luv Fur Mutts in Fairfield, Ohio. He was born with a birth defect that makes him walk funny, and according to Luv Fur Mutts, people would point and stare at him at adoption events. Even worse, people who seemed interested in adopting him always changed their minds after meeting him. One woman even cried and said she'd be depressed for the rest of her life if she had to look at him every day (note: this woman does not sound like she would be a very good dog owner).