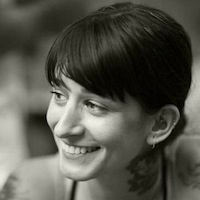 Filed by Jessie Dean Altman

|

Apr 25, 2016 @ 10:11am
Gigi Hadid was relegated to third wheel when she celebrated her twenty-first birthday by tagging along with power couple Taylor Swift and Calvin Harris on Monday. The model (and girlfriend of ex-One Direction member Zayn Malik) posted a video to Snapchat of her and Tayvin in the backseat of a car on their way to Harris' headlining set at Coachella (wow, a DJ was the headling artist?)
In the video, Hadid says to the couple, "Thank you guys so much for having me on your romantic date."
Harris responds with something not entirely audible but involving the word "pleasure," while Swift gushes, "Thank you for coming on your birthday weekend, it's great! Wow!" It sounds a little fake but probably isn't, because Swift and Hadid really are friends.
On Saturday, Swift posted a photo to Instagram of Hadid on a couch cuddling with one of Swift's two cats, and captioned it, "This beautiful, intelligent, thoughtful, hilarious person turned 21 today!!! I love you @gigihadid!!"
Hey, if you've got to be the third wheel, better to be one for a happy (albeit annoyingly cutesy) couple like Taylor Swift and Adam Wiles (Calvin Harris' real name), and not, say, Iggy Azalea and Nick Young.