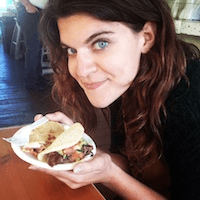 Filed by Kelsey Solywoda

|

May 08, 2017 @ 9:58am
Gordon Ramsay has been delighting the internet the last couple months with his savage criticisms of his Twitter followers' cooking skills. Last Wednesday, he shocked fans everywhere when he actually complimented a dish someone sent him.
A Twitter user by the name of Bridgett sent Ramsay this photo of a skillet pork loin her fiancé had cooked.
Bridgett and the rest of the Twitter-verse were shocked when Gordon Ramsay's response to the photo was actually.... a compliment?
For some perspective, Ramsay's comments on the meals fans send him photos of usually go something like this.
Or this.
Or this.
So, naturally, people were shocked when he actually said something nice about Bridgett's fiancé's pork loin.
@GordonRamsay @jemeh First time in a long time since I've seen some positive cristicism on his twitter. Girl you better do as he says. 😂

— Ronnie Banks (@iamronniebanks) May 3, 2017
As for Bridgett, she's going to take Gordon's advice.