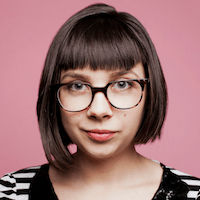 Filed by April Lavalle

|

Apr 20, 2017 @ 8:27am
Gwen Stefani has always been a style chameleon and the singer just debuted her "bangin'" newest look on The Voice.
Many women know the anxiety of committing to bangs, but Stefani has never shied away from a bold style choice.
Sure, the fringe may be one of those fancy, newfangled clip-ins, but if the bangs are fake, we never would know. They look pretty great!
Oh, and p.s.? Gwen Stefani is 47-years-old. THIS WOMAN DOES NOT AGE. Hey Gwen, can you direct us to whatever magical spring you drank out of that gave you everlasting youth?
Makeup artist Gregory Arlt is the man behind Gwen's new hairstyle.
Gwen Stefani uploaded a side by side comparison with her new 'do.
Which do you prefer?