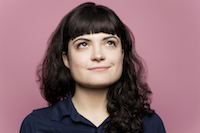 Filed by Jaime Lutz

|

Dec 11, 2015 @ 10:26am
Harrison Ford, the only man weird enough to pay Carrie Fisher's love interest in a movie, had something to say on Wednesday to presidential candidate Donald Trump's comments about Ford "standing up for America" as an actor playing an ass-kicking president in the movie Air Force One. Namely, that it's just a f*cking movie.
"It's a movie," the lifelong Democrat said while promoting Star Wars: The Force Awakens in Australia. "Donald, it was a movie. It's not like this in real life, but how would you know?"