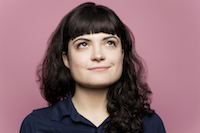 Filed by Jaime Lutz

|

Mar 15, 2016 @ 5:48pm
Hilaria Baldwin, the wife of actor Alec Baldwin whose real name is Hilaria, posted a photo of her new baby bump on Instagram "to show that we don't need to be ashamed or hide the pregnant figure." Especially when your underwear's as cute as Hilaria's is!
(Does the phrase "baby bump" gross you out, by the way? It should! But all websites are bound to use that term by a mysterious force called "search engine optimization." Okay, carrying on).