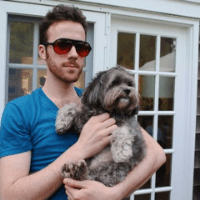 Filed by Miles Klee

|

Apr 28, 2017 @ 2:45pm
By now you've probably laughed at all the rich kids who paid thousands of dollars for a Fyfe Festival, a luxury concert experience on a private Caribbean island, only to find themselves stranded in a tent city with no food or security where Blink-182 would definitely not be performing. If you haven't, I encourage you to revel in the stories coming from the tropical ruins of this truly incredible scam.
What drew so many moneyed millennials to this hilariously fitting fate? Well, Fyre Festival was promoted by Instagram-famous models like Bella Hadid, as well as Kendall Jenner—remember her last marketing job? I think it had something to do with soda. But the mastermind behind the entire thing was none other than Ja Rule, a rapper perhaps most famous for beefing with Wikipedia about how they supposedly shaved a few inches off his height.
Well, when it came time to accept responsibility, Ja Rule didn't disappoint.
Honestly, though—why should Ja Rule be sorry? If anything, he's a hero.
ja rule basically grifted a bunch of rich kids into paying ten grand to camp on an island and eat prison food for a weekend. it's amazing

— life is, a highway (@mattvbrady) April 28, 2017
Ja Rule has done more damage to the 1% than the Democrats have

— buffy but socialist (@no_talent_shan) April 28, 2017
JaRule really trapped all those rich youths on an island and then set it on fire what a populist icon

— JuanPa (@jpbrammer) April 28, 2017
As far as con artistry goes, this is like a drop in the bucket compared to everything Donald Trump has done over the years. Between his non-apologies and his broken promises, Ja Rule could conquer the political world in no time.