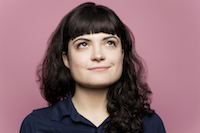 Filed by Jaime Lutz

|

Feb 25, 2016 @ 6:30pm
Actress Jenna Dewan Tatum is no stranger to the art of dance, but she's never had to pull off moves like these before. On The Late Late Show With James Corden last night, she and Corden danced to moves choreographed by precocious little kids. The toddlerography gave Dewan Tatum a chance to hang out with the one group of people who have as much energy as her husband.
The best part about this bit is that, unlike other late night segments involving kids, this actually seems fun for them.