True to her brand, Jennifer Lawrence was candid in an interview with Harper's Bazaar, telling the magazine about her social life between Oscar-nominated performances in David O. Russell movies.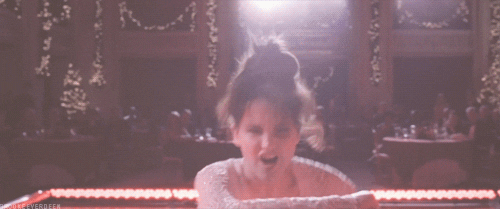 Lawrence said that she doesn't go out much: "I'm a nana. It's hard to get me out, and when I do go out I don't really stay out late," she said, but when she goes out, she goes out, explaining, "If I do stay out late and I'm partying hard, I will throw up. I don't have the tolerance to black out; I just start puking."
With perhaps the greatest segway of all time, she explains to her Bazaar interviewer:
Ask Emma Stone.

It was the night we saw Adele in L.A. She just started rubbing my back. She was really sweet. I was like, 'Get out of here. It's so gross.'"

Add to that party compadre Woody Harrelson.

"Woody cut his foot. He stayed over in one of my guest bedrooms, but that's where I started puking. I broke a candle because I can't just puke like a normal person—I flay my arms everywhere. And I didn't clean it up because I'm an asshole. The next day he cut his foot open. I was like, 'Fuck, am I going to get sued?' And he's like, 'Are you going to ask if I'm okay?'"

She demurely sips her tea.

"That night got crazy."

I suggest that the next time Lawrence embraces the porcelain, Adele should be in the corner singing as a distraction.

"Yeah!" She laughs. "She would be totally up for it."
If you go out rarely, you might as well go hard, even if the destination is to hear Adele croon piano ballads about breakups. Gotta support your squad, just as long as you don't get sued.
Lawrence regaled stories of her other celebrity friends, mentioning that she broed out with Aziz Ansari on Valentine's Day. "It was the one night I could see Aziz. For Valentine's he got me a stuffed animal, and I got him a 'That's So Raven' Valentine's Day card," she adds. 
Aziz definitely got the better gift.