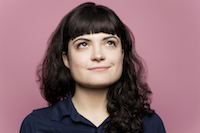 Filed by Jaime Lutz

|

Apr 07, 2016 @ 6:10pm
Actress Jennifer Lawrence is really down-to-earth, you guys. And so honest, you know?
How honest is she? In a recent interview with Harper's Bazaar, she gave readers enough information to figure out her menstrual cycle.
Said Lawrence, about the red dress she wore to the Golden Globes in January:
That was my plan-B dress. Plan A was a dress that I couldn't wear because awards season is synced with my menstrual cycle, and it has been for years. [I went with the red dress because] it was loose at the front. And I didn't have to worry about sucking anything in. The other dress was really tight, and I'm not going to suck in my uterus. I don't have to do that.