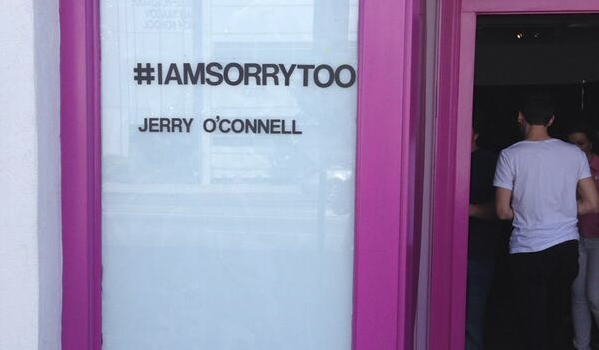 We're all starting to feel a little sorry.
How many people could have guessed that Shia LaBeouf, the goofy little kid from Even Stevens, would eventually mature into a plagiarist/performance artist/weirdo such as we have seen lately? As you may or may not be aware, the former child star has spent this week in a tuxedo, crying in a small room with a paper bag over his head that reads "I Am Not Famous Anymore," and inviting strangers to punish him with a whip, cologne or any of a number of other bizarre "implements," as the centerpiece of a show called "#IAMSORRY." Because, you know, art. Not exactly a well-worn career path for a Disney Channel star.
Related question: How many people would have predicted that Jerry O'Connell, the fat kid from Stand By Me, would eventually marry a supermodel and open up a competing performance art show called "#IAMSORRYTOO" right next door to Shia LaBeouf's, doing pretty much the exact same thing, but with a bag that reads "Super Famous." Because, you know, parody.
So, essentially, what I'm saying is that you should try to encourage your kids to become child actors. It'll make them normal, down-to-earth people.
#IAMSORRY art installation at the Cohen gallery this week. pic.twitter.com/D2QLtj1VzU

— emblem magazine (@emblemmagazine) February 12, 2014
BREAKING: Jerry O'Connell sets up competing pop-up art show next to Shia's. #IAMSORRYTOO pic.twitter.com/vUL6cZysIw

— Louis Peitzman (@LouisPeitzman) February 12, 2014
.@MrJerryOC's rival art show #IAMSORRYTOO is quite literally next door to Shia LaBeouf's show #IAMSORRY. pic.twitter.com/33tOVRaYPn

— Adam B. Vary (@adambvary) February 12, 2014
(by Dennis DiClaudio)