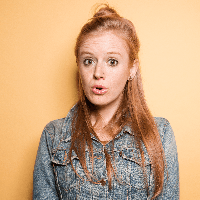 Filed by may wilkerson

|

Mar 20, 2017 @ 6:00pm
BREAKING: Luna Legend has spoken! Alert the press! Oh wait, I am the press. The point is: the adorable daughter of dream couple Chrissy Teigen and John Legend has said her first word. And, of course, her social media-savvy parents captured it on video and her mom shared the adorable moment with all of us on Instagram. THANK YOU. 🙏🙏🙏
Luna is the daughter of one of the coolest couples ever so I assumed her first word would be "slay" or "Instagram" or "#blessed."
But it turns out, celebrity babies aren't so different from non-celebrity babies: they keep it real simple. Luna's first word was "cat." And with a little help from her parents, she totally nailed it.
A post shared by chrissy teigen (@chrissyteigen) on
Like so many commenters on this video, I literally CAN NOT EVEN with this level of cuteness. Chubby cheeks I can barely handle on their own but chubby cheeks saying words???? It's TOO MUCH.
But cuteness overload aside, this a big moment for humanity. Because if this baby is anything like her parents, she's going to have a lot to say/write/tweet/[future forms of communication]. And she's going to need to know lots of words. "Cat" is a great start.