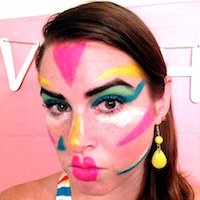 Filed by Ashley Bez

|

Aug 23, 2015 @ 12:50pm
I guess if you're married to a singer, sometimes you just want them to stop singing.
Chrissy Teigen, supermodel and patron for body-positivity, brought her husband John Legend to get her ear pierced in LA with a friend. John, of course, is a famous recording artist who has a voice that could probably like, end wars or something. However, as Chrissy dealt with the pain of electing to get a needle stuck through her ear flesh, she wasn't really in the mood to hear his angelic vocals.