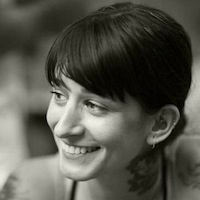 Filed by Jessie Dean Altman

|

Jun 27, 2016 @ 2:35pm
Well, it looks like Johnny Depp has not banished himself to his private tropical island after all. On Sunday night, Johnny Depp apparently made an appearance at the Los Angeles Comedy Store, when he got on stage in the middle of comedian Mat Edgars's set. Perhaps Depp was looking to buy some comedy? Or could this be some research for a new role of "heckler"?
Nope, Depp was just hanging out with his buddy, comedian Doug Stanhope. If you'll remember, Doug Stanhope is the man who wrote the op-ed saying that Depp's estranged wife Amber Heard's claims of abuse are made up.