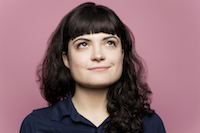 Filed by Jaime Lutz

|

Apr 15, 2016 @ 5:40pm
Redditor mwjstone14 posted a photo of his great-grandfather, who just by bizarre coincidence is the identical, temporally misplaced twin of Johnny Depp. There have been other ancestral doppelgangers before, but this is by far the most convincing. In fact, you may not be entirely convinced that this is not a picture of a time-traveling Johnny Depp.
Here are Johnny Depp and this man side-by-side:
As Redditor Etcee pointed out, this man could have been the star of 1921 Jump Street.