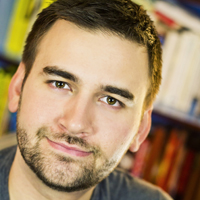 Filed by Dan Wilbur

|

Jul 10, 2015 @ 9:54am
Finally, Don Draper takes on someone else's identity in a non-depressing way.
Bill Hader can impersonate many different people. But what happens when one of the world's most recognizable actors impersonates him? And in an official interview to promote a new movie no less.
Amy Schumer and Bill Hader are currently promoting their upcoming movie Trainwreck. They both were scheduled to appear on Extra to answer the garden variety "was there chemistry? blah blah blah" interview questions, except Bill wasn't there. He was replaced by Jon Hamm. I know this because much like the original SNL impressions of the 70s, Jon Hamm did nearly nothing to disguise himself as Hader. In fact, he barely tries to impersonate Hader. That's what makes Jon Hamm a brilliant comedic actor. He doesn't try. At all.