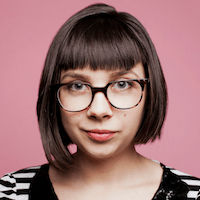 Filed by April Lavalle

|

May 03, 2016 @ 8:55am
The Met Gala was last night, and the annual event is pretty much known for celebrities wearing weirder stuff than normal, but this year's most talked about accessory was not a purse or jewelry, it was on Kanye West's eyeballs. In addition to wearing ripped jeans and a jacket that looks like it was attacked with a Bedazzler, he also sported some freaky-looking light blue contact lenses.
The theme of this year's Met Gala was "Manus x Machina: Fashion in an Age of Technology," so it was only appropriate that Mr. and Mrs. West rolled up to the event looking like cyborg versions of themselves. Kim Kardashian wore head to toe silver, making her look like an elegant version of the Tin-Man from The Wizard of Oz, while Kanye looked more like an off-the-clock construction worker who got made over by Liberace.