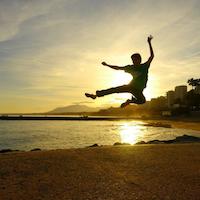 Filed by Mitchell Friedman

|

Nov 18, 2016 @ 8:07am
At a stop on his Saint Pablo concert tour in San Jose, California, Kanye West managed to once again shock his by-now nearly unflappable fans: this time by voicing his support for one Donald Trump.
"I told y'all I didn't vote, right? But I didn't tell you, I guess I told you, but if I would have voted—I would have voted on Trump," said West to what can only be described as stunned boos from the audience.
Keep in mind, this is also the man who once reportedly said: "My greatest pain in life is that I will never be able to see myself perform live."
There is also video of West praising Trump's "absolutely genius" campaign ("Because it fucking worked! —Next song.") and telling black people to "stop focusing on racism" so much and accept "it's just a fucking fact" in America.
West's fans weren't happy, in fact they were the opposite:
Sometimes I think they should've kept Kanye's mouth wired shut

— Lil Trap (@TrapPat) November 18, 2016
Well somebody else please run for president other than Kanye in 2020...Kanye lost my vote in the future

— gio (@tbyariana) November 18, 2016
https://twitter.com/greeneggsilham/status/799593246854877184
Y'all really expected better from Kanye? The man that thinks everybody can afford his moth eaten garments.

— Jelly Santos (@MrsJellySantos) November 18, 2016
Kanye helped more people get hip to Chance. That's his contribution to the culture for the year. Time to ignore the rest.

— jamilah (@JamilahLemieux) November 18, 2016
"George Bush doesn't care about black people"-Kanye West

"I would've voted Trump"- Also Kanye West

— Matt (@boczkuss) November 18, 2016
Kanye turning into everything he said he wouldn't be in All Falls Down

— Sheem (@SheemBville) November 18, 2016
Guess this complicates Kanye2020 a little bit.