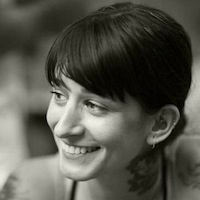 Filed by Jessie Dean Altman

|

Sep 29, 2016 @ 1:21pm
Look, cats are the best, and anyone who disagrees is unequivocally incorrect. So it's nice to see celebrities who are also completely enthralled with their sometimes apathetic, occasionally haughty, but always entertaining feline friends. Take comedian and recent Emmy-winner Kate McKinnon for example. During her appearance on The Tonight Show, McKinnon was completely open and honest about her probably unrequited love for her son cat, Nino Positano.
The SNL alum told Fallon, "I buy him all this fun stuff and all he wants is individual drips from my bathtub drain." Well, of course! Moving water is always more fun than still water, right? (If you said no, it's most likely because you are not a cat.) By the way, if you also have a cat that likes to drink from the faucet, you might consider buying the little jerk one of these bad boys.