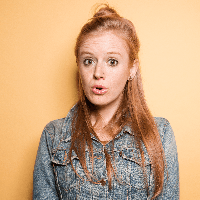 Filed by may wilkerson

|

Feb 28, 2017 @ 1:00pm
Okay, stop everything you're doing and sit down. Jennifer Aniston might be pregnant. THE Jennifer Aniston? The one whose haircut spawned a generation of choppy layers? The One Who Ross May or May Not Have Cheated On On Friends (THEY WERE ON A BREAK)? The one who said we should all stop talking about her womb so much? Yes, that one.
Sorry, Jen.
I did say "might be" pregnant. Because the source is pretty iffy on this one. On Sunday night, after Jennifer Aniston presented the "In Memorium" segment at the Oscars, Kathy Hilton (Paris Hilton's mom) tweeted this:
"Jennifer Aniston looks so beautiful tonight I am telling you she is having a baby girl. 100/ percent!!!!!" she wrote, next to a string of emojis for emphasis.
The tweet remained boldly on her timeline for approximately 19 hours before it was deleted, for reasons which may or may not include Jennifer Aniston actually being pregnant. Some people are speculating that Hilton got Jennifer Aniston confused with Natalie Portman, who is 100% pregnant and skipped the Oscars for that reason.
Whatever the explanation for this tweet, there's almost a zero percent chance that Kathy Hilton did not really put her foot in it this time. Since deleting the tweet, she has not addressed it or followed up with any apology. She did tweet this:
OMG I just saw a man that looks like a live walking Cabbage Patch doll he patrols BEVERLY Hills . I have seen him a few times . Anyone else?

— Kathy Hilton (@KathyHilton) February 27, 2017
THANKS FOR NOTHING, KATHY.
As for whether or not Jennifer Aniston is expecting a baby girl, we can still not confirm that at all. 100%!!!!!!!!!!!
And Jennifer Aniston, if you're reading this, I repeat, I am so sorry about all this.