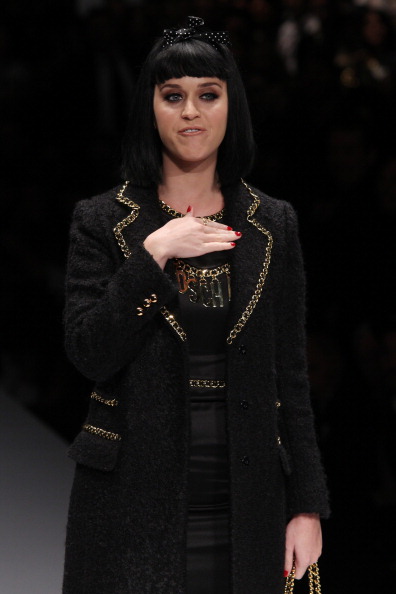 Unveiling her Spring '14  Eff You Face. (via)
Great news, haters! If you've spent the last few years being annoyed by Katy Perry's success, talent, or love life, then you'll probably enjoy this video of her being booed at a fashion show in Milan. Apparently, Katy showed up at 8:55 to the Moschino runway show that was scheduled to start at 8 o'clock, and when she finally hit the catwalk, she was greeted with a chorus of boos from dozens of photographers who were either unhappy about being kept waiting, or annoyed by humdrum pleated black with gold trim.
After looking a little shocked by the reception for a few moments, Katy regained her composure and told them them all to fashionably "shut the fuck up."
You can tell from the video that Katy is both surprised and annoyed by the abuse. Not that anyone would be doing cartwheels over being jeered, but it has to be kind of shocking to get booed for being late by people who work in the only industry where being late is accepted as fashionable.
(by Jonathan Corbett)