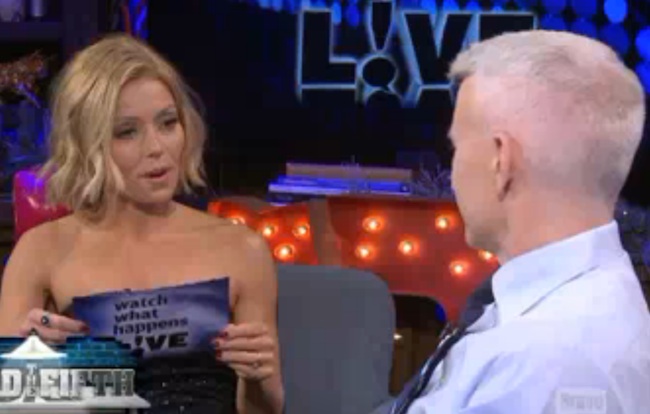 Bravo, Anderson.
Kelly Ripa and Anderson Cooper were both guests on Bravo's Watch What Happens Live last night. Being a veteran host of her own show, Andy Cohen handed Kelly the reins to grill her good friend Anderson in a question and answer game called Plead the Fifth. The way the game is played, the person being questioned can refuse to answer one of the three questions put to them. Obviously, they could refuse to answer any of them, because Watch What Happens Live doesn't have any legal authority to make them, but not doing so would kind of make you look like a wet blanket.
Kelly set Anderson up with the first question, asking him which of his CNN coworkers irritated him the most: Don Lemon, Chris Cuomo, or Jake Tapper. Even though Anderson was probably thinking Don Lemon, he went with his gut as a professional nice guy and "pleaded the fifth," using up his one chance to remain silent. That left an opening for Kelly, who used the opportunity to find out if having the body of a juicing little leaguer made her more attractive to gay men than her husband. She asked Anderson, "Who would you rather have sex with, Mark Consuelos or me?"
Anderson handled the situation very well. Especially when you consider that he can barely keep it together on this own show. Instead of turning the tables and and quizzing Kelly about whether or not she understood the basics of homosexuality, he gave her a pretty straightforward answer. "Mark, I guess. I mean, he is a guy." Then he added a nice little burn on Kelly for her trouble. "You're a little too boy-like."
Kelly pretended to be offended, but she couldn't have been shocked. The response was probably the compliment she was fishing for from the beginning.