Having recently learned that the world's ills can't be solved by soda, Kendall Jenner is having quite the year.
Her next endorsement venture went just as well, as the young model decided to hype the Fyre Festival to her seven million Instagram followers, becoming attached to the now-notorious festival that went down in flames.
The model was apparently paid $250,000 to promote the sham "luxury festival" that lured rich kids to the Bahamas and put them up in FEMA disaster tents with only cheese sandwiches to sustain them.
Kendall is getting consistently dragged for her terrible choices of deals, en route to being the spokesperson who makes bank for hyping up disease.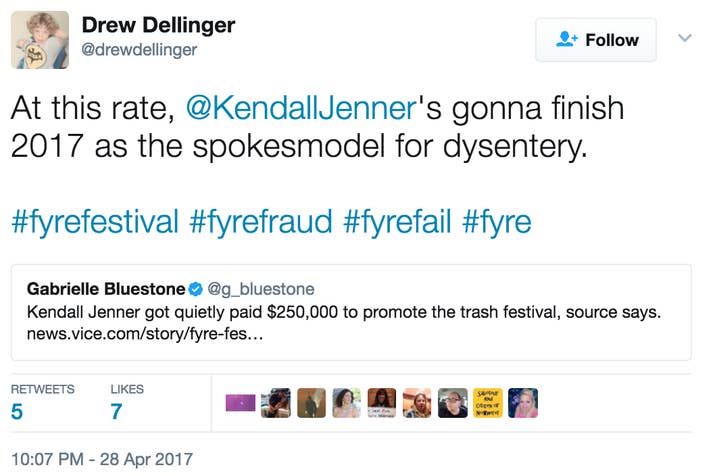 She's basically now as known for her ad as she is for happening to be born into a famous family.
Seriously. Everyone was making the same joke.
Taking a page from the Kardashian Family Manual, Kendall sought to change the conversation and remind people that she is more than just her terrible endorsement deals: She is also very beautiful and thin. When in doubt, as Kardashians say, post a topless selfie.
The caption may say "playing dress up," but it really is "NO I AM NOT SERVING PEPSI AT THE FIRE FESTIVAL HERE IS A SELFIE OF MY BEAUTIFUL THIN SELF PLEASE LOVE ME MY MOM WHO CALLS HERSELF 'MOMAGER' ONLY LOVES ME IF I AM A SUCCESSFULLY LUCRATIVE PROPERTY, ENVIED BY MILLIONS AND MASTURBATED TO BY MILLIONS MORE FORGET PEPSI HERE I AM HALF NAKED PLEASE, PLEASE LOVE ME AGAIN."