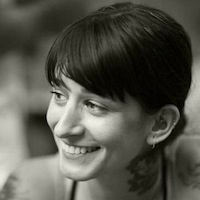 Filed by Jessie Dean Altman

|

Mar 24, 2016 @ 2:40pm
Fans (well, and haters, too) of the youngest of the three Kardashian sisters, Khloé, couldn't help but notice that recently, her face has looked very…different. What happened? Did she do something? Surgery? Injectables? Bee stings? Well, here are some answers at last.
On the March 23 episode of Kocktails With Khloé, one of her guests was plastic surgeon Terry Dubrow, and Khloé took the opportunity to talk about the time she got facial fillers and her "face was so f--ked." She added, "I looked crazy, and I still think the effects are in there! I went to have it dissolved like three times." Don't worry, girl—it's only noticeable when you try to show emotions.