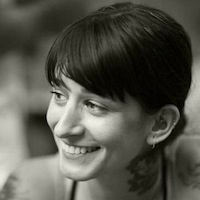 Filed by Jessie Dean Altman

|

Feb 25, 2016 @ 7:59am
Tuesday night on The Late Late Show, Khloé Kardashian told James Corden that she was banned from giving any speeches at her sister Kim and Kanye West's wedding, because she's such a "talker"—meaning she rambles and doesn't always use the best choice of words.
No worries, though—since Kanye was there, they already had the whole awkward, long-winded wedding toast portion covered. West gave a speech that, according to Khloé went on for "like 45 minutes" (no one is certain of the exact amount of time because they all either excused themselves to go to the bathroom or just passed out at their tables). During his speech, he did tease his new sister-in-law a bit, "one ranter to another ranter," saying, "I know you want the mic." Too bad Khloé didn't catch it during the traditional "throwing of the mic" portion of Kardashian weddings.