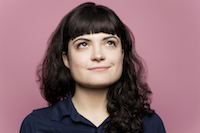 Filed by Jaime Lutz

|

Feb 24, 2016 @ 7:43pm
The world is shocked, shocked, that Khloe Kardashian used some light retouching to smooth out her body on a selfie posted to her social media accounts today. Look closely at the door behind the reality star—the edge of the door (by her right thigh) is curved ever so slightly, as doors don't usually do in the real world:
Commenters on her Instagram noticed the 'shop job almost immediately—"I love you but really? You look great you don't need to edit your pics," one user wrote—until Kardashian took the photo down and replaced it with the un-retouched (or better retouched) version, along with a snarky caption about the mini-controversy.