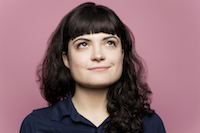 Filed by Jaime Lutz

|

Mar 07, 2016 @ 3:41pm
Khloé Kardashian—a woman who, as Amy Schumer memorably put it, is part of "a whole family of women who take the faces they were born with as a light suggestion"—is pro-plastic surgery. Go figure. Even as she still maintains that she hasn't had plastic surgery herself, Kardashian told Cosmopolitan that she's not opposed:
I think plastic surgery should be viewed almost like makeup, because we're all putting on a f*cking mask basically every day anyway. When you dye your hair, you're changing who you are, and I don't think there's anything wrong with that. I think people should get plastic surgery or fillers or lasers or whatever if they want it — that should be your own personal decision. I just don't like when someone else is like, 'Man, I only want to date a girl if they have big tits,' and then a girl's like, 'I gotta get double-Ds.' If you want them, great. If you're doing that for your man, that's when it bothers me.