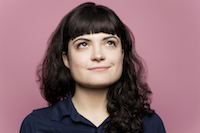 Filed by Jaime Lutz

|

Dec 21, 2015 @ 10:06am
Kim Kardashian-West is launching an emoji app today, called, appropriately, "Kimoji." One of the emoji is of her butt, so you know this new app is important to her. It makes sense, because obviously, emoji are an important part of Kim Kardashian's life—it's how she announced Saint West to the world, after all.
A post shared by Kim Kardashian West (@kimkardashian) on
Notice that in addition to Kim Kardashian's butt, the emoji also features awful contouring, a waist trainer, and her distinctive crying face (it also has a Hokusai wave for some reason?). It's further proof that Kardashian, or her Muppeteer, has a sense of humor. Though you probably already knew that from her first app, the game "Kim Kardashian: Hollywood."