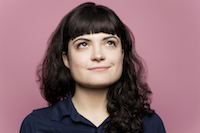 Filed by Jaime Lutz

|

Apr 04, 2016 @ 10:37am
Kourtney Kardashian has had her life televised for nearly nine years. She understands the media better than most. And you have to assume that that's why she shot a bikini selfie with her body twisted around to show her bum and her chest, no face required.
A post shared by Kourtney Kardashian (@kourtneykardash) on
Guess what, Kourtney: it worked. And people say the Kardashians aren't smart.
A post shared by Kourtney Kardashian (@kourtneykardash) on