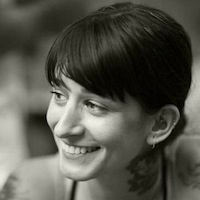 Filed by Jessie Dean Altman

|

Apr 27, 2017 @ 12:02pm
Cosmetics guru and famous rich person Kylie Jenner is being raked across the coals for a recent selfie she posted on Instagram. The photo, which shows Jenner posing in a white long sleeved shirt and some Puma briefs, has some of her Instagram followers convinced that she photoshopped her waist to make herself look skinner. Actually, a lot of them are convinced.
They say the proof is that the "wall" next to her seems to balloon outward ever so slightly at exactly the place where her waist goes in.
Their accusations go on and on.
And on.
And on.
And on.
Forever.
But here's the thing—I don't think this is photoshopped at all. Because that's not a wall next to her, it's a curtain. You can see her body and the curtain in this Snapchat she posted of the same scene.
So when you look at the video, the curtain actually isn't a straight vertical line. Maybe her waist really is that tiny. Remember, too, that the Kardashian/Jenners have been big fans of waist-training. So, to me, this isn't so much a photoshop fail as it is just a really, really thin waist. COME AT ME.