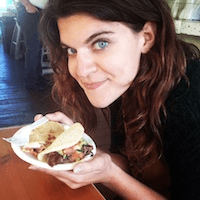 Filed by Kelsey Solywoda

|

Apr 26, 2017 @ 10:29am
The long, complicated saga of Kylie Jenner and Tyga sadly came to an end a few short weeks ago. After all the gigantic promise rings and extravagant birthday gifts they've been through, you'd think it would take some time to recover from the breakup.
Not for Kylie Jenner. On Tuesday, she showed up at an NBA playoffs game between the Houston Rockets and Oklahoma City Thunder with her rumored new boo, hip-hop artist Travis Scott.
Kylie was apparently there to see Travis Scott perform at the game just before tip-off. An onlooker told People,
During his performance, Kylie was hiding in the Rockets' courtside club anxiously waiting for him to come back to her. Once he got back, they definitely looked like a couple, cuddled up next to each other among her friends.
"They were super hand-holdy and it seemed like she wanted people to see them together," the source continued. "They haven't let go of each other since he got off the court." The source also told People that Jenner was kissing Scott's neck.
This appearance comes just a week after Jenner and Scott showed up at a late-night Coachella party thrown by designer Jeremy Scott together.
It seems Kylie may be officially moving on from Tyga. At the very least, she's trying to make him jealous. But two can play that game. Tyga was seen just a few days ago hanging out with a woman who looks remarkably similar to Kylie.
Something tells us the saga of Kylie and Tyga isn't quite over yet.