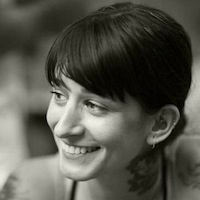 Filed by Jessie Dean Altman

|

Apr 18, 2016 @ 4:02pm
On Sunday, selfie queen Kylie Jenner posted no fewer than five (5!) Instagrams of herself in a Louis Vuitton swimsuit and matching headscarf (because no swimming outfit is complete without a cumbersome, pirate-like headscarf). Pure speculation, but is Kylie unofficially getting paid as a Louis Vuitton model? The first three were taken before attending day three of the Coachella festival, and the last two are of Kylie and her on-again/off-again boyfriend Tyga hanging out at the festival.
The first is a short video of Jenner, with the PartyNextDoor/Drake song "Come See Me" playing in the background, captioned "Obviously my favorite song."
A post shared by Kylie (@kyliejenner) on
The next one is a bathroom mirror selfie, showing off the 18-year-old's very fit 18-year-old body. No caption on that one, because the picture speaks for itself—"I love me, and you should, too."
The third picture was taken by someone else, and shows Jenner out by a pool. A pool which she is almost definitely not getting into, because hello, she's wearing a Louis Vuitton bathing suit. The last thing you want to do with something that expensive is get it wet. That one is captioned with a little empty square emoji, because, oh whatever, who cares. No one is looking at these pictures for the captions.
A post shared by Kylie (@kyliejenner) on
The last two photos show Kylie and Tyga sitting close to each other and talking at Coachella. What are they talking about? Probably about how pretty and 18-years-old she is, and also about how she's wearing a Louis Vuitton swimsuit as an outfit and possibly getting paid for it. This picture has no caption, because Jenner is either very mysterious or highly distractable.
This last one does have a caption: the rainbow emoji with the word "hair." Because her new hair is all the colors of the rainbow, if rainbows were pastel and sponsored by Free People.
A post shared by Kylie (@kyliejenner) on
What's the message here? What do these five Instagrams, taken together, mean? What's the bigger picture? What's the point of anything, really? We're all going to die eventually. Only Jenner will be buried in a Louis Vuitton casket (and possibly paid to do so) while you probably will not.