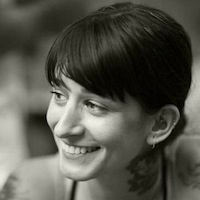 Filed by Jessie Dean Altman

|

Nov 01, 2016 @ 9:33am
Halloween is all about being scary, and there's really nothing scarier than Donald Trump's 2005 assertion that he was a big fan of grabbing women "by the pussy" (except the idea of a Donald Trump presidency, that is). Lena Dunham saw the opportunity for a great costume and ran with it, dressing up as an actual "grabbed pussy" for Halloween.
An Instagram posted by Dunham on Monday night shows the 30-year-old dressed as a black cat with a pair of fake hands attached to her, one near her breast, and the other—well, you know.