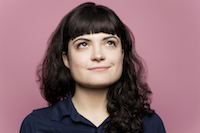 Filed by Jaime Lutz

|

Sep 21, 2016 @ 5:55pm
Lena Dunham and Jenni Konner interviewed Gwyneth Paltrow for the latest issue of their newsletter, Lenny. It's pretty fun, because Paltrow swears a lot in it, as if to prove she could totally guest star on Girls or something. Mostly, it's Ms. GOOP revealing that she reads all the mean comments you write about her on the internet, and calling you out for that. Here are 6 things Gwyneth Paltrow said in this interview that will make you kind of sad for her, maybe:
1.
I think I would have been absolutely stumped if you asked me "Why are you doing this?" in 2008. I wouldn't have been able to tell you why, and there have been many times over the years that I've been doing that, that I'm like, "Why am I doing this? This is totally excruciating and unrewarding, and really painful, and everyone hates it and hates me."