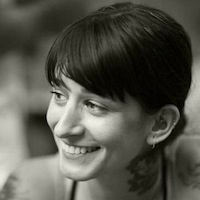 Filed by Jessie Dean Altman

|

Mar 08, 2016 @ 3:10pm
On March 1, just two days after Leonardo DiCaprio (finally) won an Oscar, the Facebook page History in Pictures posted a sweet family picture of baby Leo with his mom Irmelin and dad George (with whom he attended the Oscars) in 1976.
Aww, look at that happy 70s family! Dad and son are both wearing stripes, and the family's cat is nestled underneath mom's arm...oh, hold up, sorry, that's not actually a pet—it's Mrs. DiCaprio's armpit hair. No big deal, it was the 70s, after all. Plus, to this day, a great many women have no interest in shaving their armpit hair. Hey, neither do men.