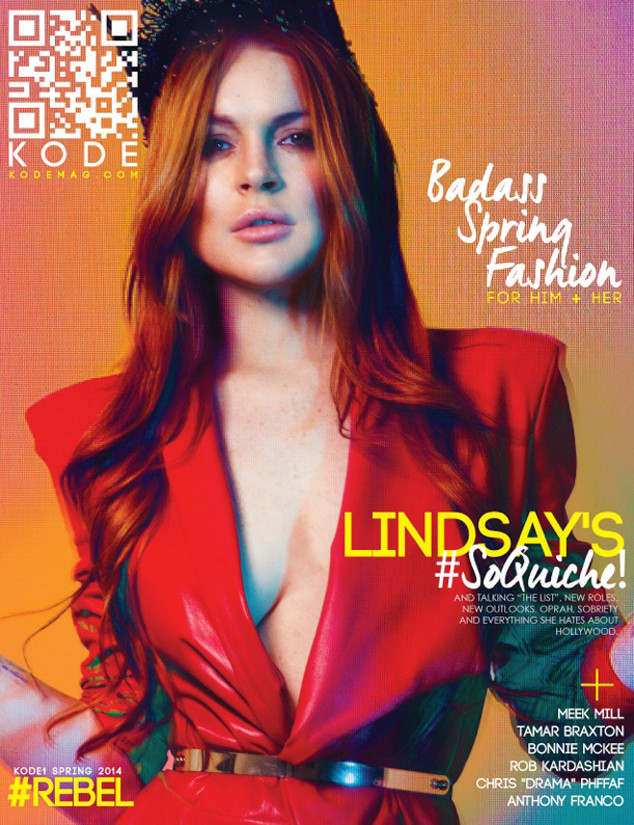 Kode red! (via)
Since the weekly "shocking" revelations on Lindsay failed to shock anyone but Oprah, it looks as though Little Red Car Crash has turned to something called Kode magazine to generate publicity. And it's working! In an excerpt from an upcoming interview obtained by Just Jared, Lindsay drinks vodka, takes ecstasy, says she got pregnant by a married jet-setter, and claims Jennifer Lawrence screws for roles in Hollywood.
Kode magazine says the interviewer, who goes by the name The Kurator, is a "trusted source" (Dina Lohan?) and they stand by everything in the story. Even though a rep for Lindsay (Dina Lohan?) said this afternoon that the story is "fabricated." 
However, saying the story is "fabricated" isn't exactly "We're suing the shit out of them!" And Kode magazine is an actual publication with a tri-named editor in chief, Alan Troy Watson, who you'd think wouldn't risk his job trying to take down someone who has already taken up residence in a ditch. Though it should be pointed out that on Lindsay's Kode cover, the only other recognizable name listed is Rob Kardashian, who is third down on a list of "gets," and one spot above Chris "Drama" Phffaf (pronounced "Fphfffafff").
She did sit for a Kode photo shoot, which does give some weight to their side of things. Or at least proves they can afford some lights and a few cans of spray paint.
The interview is nuts even by Lindsay standards. So nuts that it's hard to imagine that even she would be willing to venture so far out on the crazy branch, even after a night of chasing ecstasy with vodka and Pimp Juice. Either Kode is playing Lindsay, Lindsay is playing Kode, or Kode and Lindsay are in kahoots and we're all just playing in the gutter.
(by Jonathan Corbett)