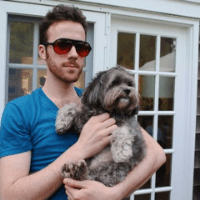 Filed by Miles Klee

|

Dec 03, 2016 @ 1:04pm
The more one reads about Art Basel in Miami Beach, the more one resolves to never go anywhere near the annual orgy of neon lights, cocaine, VIP parties, champagne, paparazzi, and pretentious affect. But if one thing above all the others can convince you to stay away next year, and ever after, it might be knowing that Madonna and Ariana Grande awkwardly twerked together there.
Look, we're not saying pop stars shouldn't have a good time and dance like nobody's watching—even if they want to attempt a faddish dance that peaked a few years ago. Problem is, everybody's watching. Always. And they are very harsh critics. Most could only puzzle over what the heck they were watching.
https://twitter.com/lucoregui/status/804920464237793280
We just pray they're not collaborating on an actual music video now.
And poor Adriana: When she got home, even her dogs were judging her.