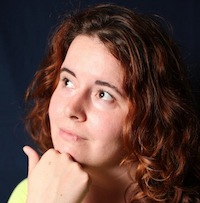 Filed by Aimee Lutkin

|

Sep 08, 2015 @ 12:52pm
There are minor "Game of Thrones" spoilers ahead, if you are some sort of maniac who hasn't watched every available episode yet.
There aren't many celebrity YouTube channels that have more to offer than a celebrity Vine account...or Twitter...or Instagram...or Snapchat. Wow, there are a lot of ways to "get to know" your favorite celebrities. When do they have time to sleep and be famous when they're throwing all this behind the scenes social media stuff at us constantly? At least this one is pretty cute, with Arya Stark (Maisie Williams) sharing adorable little tidbits, like a close-up of her dimple.