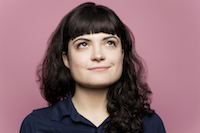 Filed by Jaime Lutz

|

May 13, 2016 @ 6:40pm
Over at Jezebel, writer Bobby Finger uncovered something fascinating and a bit sad: that even though Margot Robbie, actress from The Wolf of Wall Street and the upcoming Suicide Squad, now says in interviews that she is 25 years old, was once referred to in an article from 2008 as 23, which would make her now 30.
If Robbie is indeed lying about her age, she would join a long line of Hollywood stars to have done the same. For "stars," please read "women and Michael Jackson," because that's mostly it. Recently, Rebel Wilson said she was 29 when she was actually 36, Jessica Chastain said she was 30 when she was actually several years older, and Beyoncé insists she's 34 when she's actually the ageless goddess Coyolxauhqui.