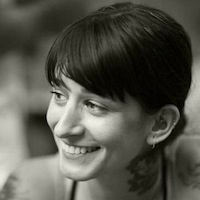 Filed by Jessie Dean Altman

|

Jan 25, 2016 @ 10:32am
For reasons unknown, Mark Ruffalo ventured out into Winter Storm Jonas on Saturday night, and somehow dropped his phone and wallet case. He took to Twitter, as one does, tweeting a request for help finding his missing stuff and offering a reward and a signed picture.
APB out for a cell phone in a wallet case out on the streets of NYC in a blizzard. My drivers license is in there. Reward and signed pic.

— Mark Ruffalo (@MarkRuffalo) January 23, 2016
Amenaide and Catherine Brown, two little girls walking home from Shake Shack with their mom (boy, people really will do just about anything for Shake Shack. Blizzard? No problem!), came upon Ruffalo's phone and wallet laying in the snow. They checked the drivers license, but didn't recognize the name. The phone was locked, but a text with a phone number was visible on the screen, and a few phone calls got them in touch with Ruffalo's publicist.