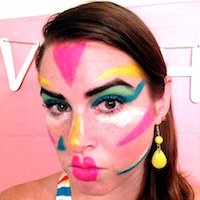 Filed by Ashley Bez

|

Aug 27, 2015 @ 10:09am
It looked like Miley Cyrus appeared on 'Jimmy Kimmel Live' with like, three people's worth of attire. None of which was a shirt.
Somehow, iridescent princess Miley Cyrus manages to wear lots of clothing while also wearing very little clothing. Miley appeared on Jimmy Kimmel Live yesterday in a rainbow-mirrored, crop-caped skirt-suit, her hair adorned with a toddler's entire toy collection. Oh, and sequin heart pasties. Can't forget the pasties! It's like she's having a contest to wear the most accessories, which is a game she always wins because it's against herself.