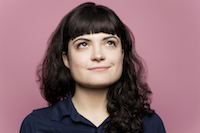 Filed by Jaime Lutz

|

Mar 01, 2016 @ 7:20pm
While hosting the Oscars on Sunday, Chris Rock sold $65,243 worth of Girl Scout cookies to celebrities (including Vice President Joe Biden!) because his daughter Zahra asked "Daddy, how come we never sell the most cookies? How come Mrs. Dunn wins every year?"
"It would mean so much to my little girl if we could beat Linda Dunn," he told the audience, not that Morgan Freeman needed any convincing.