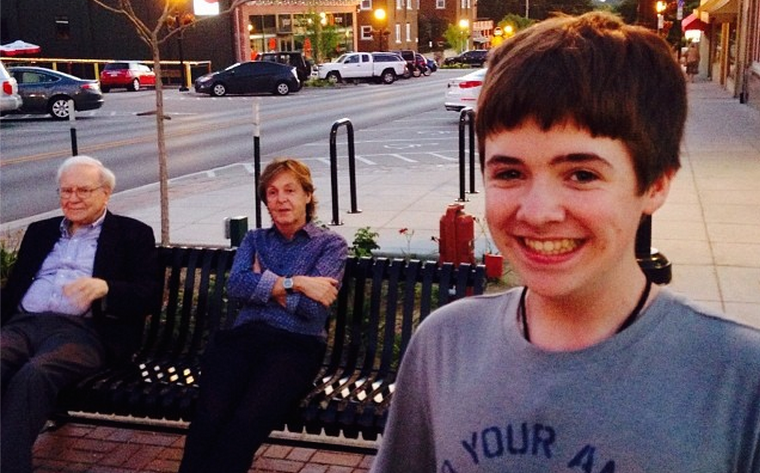 Warren Buffett could buy Instagram just to delete this kid's photo, if he wanted.
(via Instagram)
Nebraskan kid Tom White was enjoying an evening on the town in Omaha, Nebraska last night, which is exciting enough, when he walked by the eCreamery ice cream shop and spotted one of the richest and one of the most famous humans on the planet. Naturally, he turned his back to them and waggled his phone around in the air instead of asking for a real photo or, you know, some life advice. 
Not that I really blame him. Tom White's Instagram account ("speeeeeeed_of_white") describes him as "making the world a better place since 1997." I suppose a teenager might be slightly intimidated by Buffett and a Beatle, or the fact that the combined wealth on that bench is $63.2 billion ($62 billion for Buffett, a paltry $1.2 billion for McCartney). I don't know how much money Tom White is adding to the net worth of this photo, but I have a feeling it's statistically insignificant.
Just another night in Dundee hanging out with @PaulMcCartney and @WarrenBuffett #omaha pic.twitter.com/1UlAzRXX1Q

— TomBecka (@TomBecka) July 14, 2014
Some other folks snapped some good shots of McCartney's visit to Warren's hometown of Omaha. Apparently Paul was very polite at the ice cream shop, and I'd say that compared to normal Beatlemania, the residents of Omaha were also very polite to Paul and Warren (although they're used to him).
That's Sir Paul McCartney having an ice cream with Warren Buffet in #Omaha tonite. Bet they're gossiping about Bono pic.twitter.com/SokyNMFP5f

— debra domayer (@thefirstbrat12) July 14, 2014
(by Johnny McNulty)